How it works
Apply for projects fast, grow efficiency and sales, see statistics for bids/answers
1
UpAgency software selects projects based on your Ideal Client Profile (Budget, Location, Technologies/Niche)
2
Apply for projects fast with Cover Letters Assistant (with your portfolio links and custom questions)
3
Stats for the performance. Filter the reply rate by clients' countries, project technologies, etc
Get More Qualified Leads With UpAgency Software
Our software is the perfect match for the teams who just start or for agencies with succesfull history on Upwork. All projects in UpAgency your ICP (Ideal Client Profile). You just don't waste your time looking through not relevant of projects.
UpAgency also works great when you don't have any Sales Development Representatives in-house. The software is so effective that you will spend minutes to cover all the matching projects on Upwork.
100% Legal. UpAgency doesn't any auto-bidding. Our product helps you to store the information in the right place and use it whenever you need.
The stats will show you how you perform. Make data-driven decesions and see how many proposals were sent per day/week/month. Insights serve to show what specific client audience answers your proposals the most.
Functionality
All projects are here
Full-time monitoring of Upwork projects, building a unique feed for your profile of the best match opportunities
The best fit Upwork projects
Based on the ICP (Ideal Client Profile) our software selects the right projects. We use AI to predict the chance of getting the project.
Cover letters assistant technology
Our product gives you a lets you or your managers send custom bids in seconds
Meet your sales goals
Being effective you can send as many proposals to cover all the right projects and save time for other tasks
Reports & Stats
You have an access to statistics on proposals/answers per day/week/month. See insights on the most performing managersh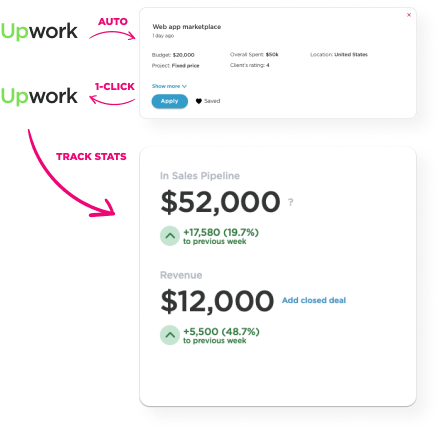 Free up the time & energy
of your in-house
specialists
Increase the efficiency of bidding on Upwork, get the right projects and see analytics
Nice stuff others have said about us
Initially, we were working in-house with our SDRs searching for projects on Upwork. Periodix team was able to triple the number of leads we were receiving per month! Right now they generated 333 leads from North America and Europe and we keep working for more!
CEO, Web & Mobile Development Agency
Previously Periodix helped us to find so many new clients that we got to focus on growing our team. We needed to fill the pipeline of our recruiters fast. In the first month, Periodix found 23 developers interested in joining our team. We kept working and achieved 72 developers/month. Thanks for supporting our growth!
Founder and CEO, Software Development Company
Really great results! Before Periodix we were searching for clients on Upwork by ourself. On average we were making about 45 leads per year. For now we are working with Periodix more than a year and they were able to generate 137 leads! And we can focus on closing leads instead of searching them.
Directof of Sales, DevOps Company
We were able to grow our team 2X since the start of cooperation with Periodix. Right now there are 300+ employees and we keep growing. In the first month, they were warming up and provided 2 qualified leads, hitting 8 leads in the second month and 10 leads in the third month. For about 10 months Periodix provided us with 181 leads. A great addition to our Sales Department!
Sales Director, Game development and Game Art company
In the first three months, Periodix team provided us with more leads than we were receiving for almost a year! For the first five months, we received 109 leads and we keep working. Great work and communication!
Founder, Amazon Advertising Agency